By the time I arrived in the middle of the Moroccan Sahara Desert I was speechless. I was surrounded by nothing but sand and sky, hues of gold and blue - utter silence and air so clean it was a welcome shock to the system. At night the sky became overpopulated with stars, clear to see as there were no conflicting city lights contaminating my sight. I had realized a scene from my dream, and was completely overwhelmed with awe. A mirage swelled up in my mind, transporting me into my own little movie. Seemed a shame to speak, it was so beautiful.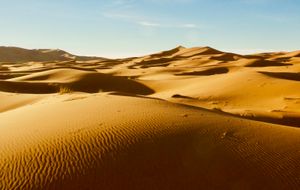 Since that first trip in 2001, I've been back to Morocco many times, always with the intention of chancing upon spontaneous musical encounters. There was one occasion that really summed up my main interest in life, which is that music unites.  
I had the privilege of attending a Moroccan friend's wedding in Tiznit, an ancient, mystical southern town, far from tourism, far from anything familiar. There in the family home, a group of local musicians came together to play, with violin, oud, percussion, and voice. I had my guitar with me and was invited to participate. Without sharing a common gender, language, musical language, religion, country, or culture, we were just souls coming together to experience a perfectly balanced and joyful human exchange. I've since had many musical adventures like that, in many different countries, and that experience leads to a knowledge and understanding that keeps me grounded, as it transcends the inundation of media and judgement of others, all based on fear of the unknown. 
This current project I've put together draws on my years of collaborating with musicians from other cultures. I decided to base the project in Tangier, since it's fairly close to my Spanish home base near Malaga. In two hours by car I can be in Tarifa, Spain, and from there take a ferry direct to Tangier in less than an hour.  
When it came to finding musicians, I put the word out with the help of my old friend Khalid, a university professor in Tangier. Several players expressed their interest in the idea - interpreting a composition I wrote for the project and documenting the process. I went to Tangier for a couple days for an initial meeting. My bassist Juan Soto came along, as well as Khalid - we gathered with Hamza (oud), Simo (violin), Soufiane (vocalist) and later Khaled (percussion) and we all connected very quickly as I told them about my plans for the project. Having all agreed, I sent them the music, then went about working on logistics: scouting locations for rehearsals, locating necessary gear and instruments, deciding where to film, asking for permissions, deciding who to hire for camera work, etc. There have been endless details to consider, and I'm happy to say it's all coming together. I look forward to the next trip in early August, when we will record the song in Tangier, and film the process.  
Until then, here's a little video of our first encounter. Stay tuned for Chapter Three.