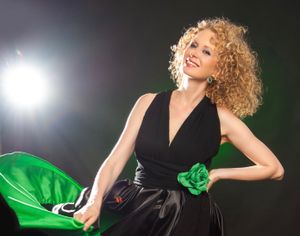 When I was growing up on Vancouver Island, I loved to complain about my hand-me-down wardrobe. My parents were both artists, and they didn't have much money. As a kid, I really didn't care or even notice that my pants didn't fit quite right, but by the time I hit my teens I realized that I stuck out like the bargain bin in a second hand store.  
Feeling like an outcast on the sidelines, and dateless at the school gym dance nights, I knew I had to take action.  
As I approached my sixteenth birthday, I'd watch my girlfriends rock trendy jeans and cute dresses, while I was still wearing paint-stained, over-sized overalls — my best pick from the yearly bag of clothes sent by a cousin on a farm in Alberta.  
So I made my move, and begged my Dad: 'Please, just one cool outfit for my birthday... Please?'  
My birthday gift arrived in a large box. I was so excited! I was convinced the oversized package contained a whole new wardrobe.  
I was wrong.  
When I opened the box, I found a second-hand sewing machine. My father didn't notice my confusion as he said, "there you go, now you can sew all the clothes you want!"  
It wasn't what I'd hoped for, but I did teach myself to sew. I'd stitch, then rip out, then re-stitch every seam several times until things fit... sort of.  
Back in the day, I could buy fabrics that were $1 a yard. Cheap remnants were all I could afford with the money I earned assembling pizzas. Often, I didn't have enough of the same fabric to complete a garment, so I'd combine the patterns, colors and textures I had available.  
I recall one dress that sported a mix of cotton and 'composition unknown' cloths. After an excursion in the washer and dryer, I discovered that the cotton parts of the dress had shrunk, while the other sections had not. Suddenly the dress took on a whole new form, with a patchwork of alternating bulges competing with body hugging sections, from bodice to sleeve to rebellious skirt ruffle.  
I sewed all kinds of weird get-ups. I could claim with pride that all of my designs were original, if only because they didn't turn out like the Vogue patterns I was enthusiastically trying to follow.  
I mustered up my confidence and started to wear these experimental concoctions to school. My pride at having created a real garment overrode any thought of embarrassment. At one point I even convinced myself that I had a talent for design.  
A schoolmate in the theater department once kindly said to me, at the sight of my new patchwork dress with uneven frills: "Don't worry, you have the personality to pull it off."  
I wasn't sure what she meant by that, but I decided to take it as a compliment. At that moment, I felt fashionable — even if 'unfashionably' so. I've been wearing my own frills ever since. 
Originally published in the Huffington Post on April 6, 2017