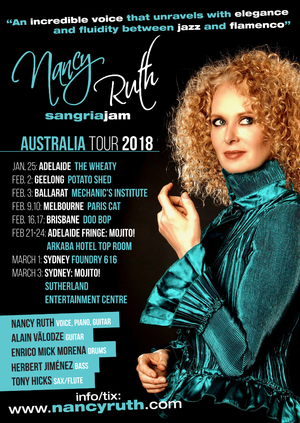 For Agents, Managers, and Self Managed musicians: How To Book A Tour Of Australia  
By Nancy Ruth 
Australia is a vast country with a lively music scene, well-equipped venues, enthusiastic audiences, and great travel infrastructure. It's a fun place to tour, but after performing in many countries over the past 30 years, I must say that organizing a tour of Australia is very complicated in terms of paperwork: there are a lot of technical and legal hoops to jump through if you are not an Australian citizen.  
So, if you are an agent, manager, or self-managed musician, I hope my experience of learning the long way will give you a heads up as to what you'll be getting into if you start pitching your act there. If you have an Australian promoter to do some or all of this work for you, that's great - but if you're working out of your own office, this is for you.  
Please note that this information is based on my personal experience of booking a tour for my five piece band in 2017/18, and regulations do change, so always check for up-to-date information.  
1. Research appropriate venues for your act and get to know the country's geography, starting at least a year in advance. This goes for booking any tour, but keep in mind that Australia is huge, so effective tour routing will become vital for keeping travel costs down.  
2. Once you have positive responses from enough venues to build a tour (I decided on 14 dates after evaluating the best offers and date/ logistical combinations), you will need each venue or promoter to provide a letter of support detailing the date of your show, the venue and contact info, as well as their Australian Business Number (ABN) and 'trading name', all of which you'll need for your visa application. Only once your visa is approved can you then get back to each venue for 100% confirmation. It's a bit of a catch 22, but if you have all your paperwork in order and don't foresee any glitches (eg. if you have a criminal record which could lead to disapproval), the visa will likely be granted.  
3. Apply for the visa. In my case the most appropriate visa was called a Temporary Activity Visa - Subclass 408, but it's best to contact the Australian government to confirm the best visa application for your own unique situation. Here's the link I used to get started: https://www.homeaffairs.gov.au/Trav/Visa-1/408  
It must be completed online - make sure you save each page as you go so you don't lose your work, as this can take a long time to complete.  
Here's just some of the paperwork you'll need to submit with your visa application:  
-passport and all relevant personal info  
-dates of stay (I booked my flight to Australia after the visa was approved, but had flight reservations pending)  
-name change certificate if you've ever changed your name  
-letters of invitation from each venue, including the performance date, venue info and their ABN  
-letter from an Australian sponsor may be needed depending on your tour details (can be a promoter or festival, for example)  
-daily itinerary including all venue details for your tour - yes, you'll have to fill out a form detailing your location and activities for every single day of your proposed stay  
-proof of financial solvency  
-travel health insurance (may also need medical documents)  
-application fee paid (currently $285 AUD)  
Note: revising tour/ travel dates after the visa is submitted is complicated, so you must have your tour lined up BEFORE applying for the visa.  
4. Apply for an Australian Business Number. Info here: https://abr.gov.au/For-Business,-Super-funds---Charities/Applying-for-an-ABN/  
You'll need to supply this number on your invoices to the venues before they can pay you.  
5. Apply for an Australian Tax File Number. You'll have to do an Australian tax return at the end of their fiscal year.  
www.ato.gov.au/Individuals/Tax-file-number/Apply-for-a-TFN/  
6. Wait for your visa to be approved, then confirm dates with venues.  
7. Consider hiring Australian sidemen. Travel from almost anywhere to Australia is expensive, so bringing your whole group might not be feasible. In my case I hired four Australian musicians to play with me, having scouted and interviewed players online months before. If you do bring your whole band from abroad, each member will need a visa.  
8. Consider buying public liability insurance. This may be required if you're playing any festivals. I used Duck For Cover: www.duckforcover.com.au  
9. Book regional flights and accommodations. Once you're in Australia, you'll be flying around the country unless you want to drive thousands of kilometres from gig to gig. I booked with Virgin Australia, because they don't charge professional touring musicians for excess baggage, up to 32 kg. Amazing, right? That means you don't pay extra for your guitars, cymbals, or any other gear up to that weight restriction. I've never heard of another airline that offers this. You do have to be a member of an Australian professional musician's association; that being said, they did honour my SOCAN (Canadian PRO) membership, perhaps since the rest of my band were APRA (Australian PRO) members. Contact Virgin Australia for up to date info; you will have to email them the flight details for each member, as well as their membership data, description and weight of each bag. It's more paperwork, but so worth it.  
As for accommodations, you may be able to negotiate those in your contracts for show nights, but there will be gaps between tour dates, so budget carefully. I booked rooms for myself and bandmates months in advance using bookings.com and Airbnb.  
10. Promote your shows starting well in advance of your arrival. I primarily used Twitter, Instagram and Facebook, and my bandmates helped spread the word to local radio shows and blogs. I also found that most venues I worked with were proactive on the promotion front, and I did my best to collaborate with them by providing quality poster templates, photos, custom graphics and suggested tracks for airplay. I created a nice package where they could download my files at Box.com. There are a few music P.R. companies in Australia if you have the budget to dish out big bucks, but making that decision would depend on the scope of your tour and genre of music.  
11. Consider getting an international drivers license if you plan to drive there. Depending on what country you're from, you may be able to drive in Australia but remember they drive on the left side of the road, same as in the U.K. and Singapore.  
12. Pack with care for your trip to Australia. It's absolutely prohibited to import food, and I don't think I have to mention drugs… don't be stupid enough to take any chances.  
Also, if you can arrange it, plan to arrive a good week in advance to get over the jet lag. Remember, if you're flying from the Northern Hemisphere, you'll literally feel like you're upside down and vibrating by the time you get there. Take care of your health so that you're feeling strong by the start of your tour.  
When you get to Australia:  
13. Open an Australian bank account. You will need your passport, ABN and tax file number for this, as well as an Australian address. Most venues will want to pay you via bank transfer, within Australia. You can make the rounds to see which bank has the best deal since you'll likely want to close the account before you leave if all the gigs have been paid - if not, you may have to program the account to be closed (rules depend on the bank). Some banks offer online-only accounts without a bank card, which will save you some banking fees.  
14. Get an Australian phone number/ data plan. I got a $30. a month plan from a local mobile phone company, and just popped the sim card in my iphone, which worked perfectly.  
15. Keep all your expense receipts and get any sidemen to invoice you (if they're Australian, include their ABN).  
Invoice each venue you play. You'll need all this paperwork for your Australian tax return.  
When you get home, after your tour:  
16. Submit an Australian tax return at the end of the fiscal year for income earned there. https://www.ato.gov.au/About-ATO/About-us/Contact-us  
Conclusion:  
Is it all worth it? That depends on where you're at in your career and what's currently motivating you. In my case, my original jazz/ flamenco project was already successfully touring, and I was ready for the adventure (although most admittedly I had no idea how complicated it was going to be when I started booking the tour!!) Still, I planted my musical seeds there, and met some great people and musicians along the way. I got to discover Adelaide, Sydney, Melbourne, Ballarat, Geelong and Brisbane by playing my own compositions for some fantastic audiences. And yes, I got to pet some kangaroos and koalas…  
Will you come home with any money? Probably not, at least not for the first or second tour. If you are able to keep travel costs down, you might come out on top after a third tour if you've built up enough of a following and can negotiate fees high enough to offset travel costs. You'll almost certainly need to secure tour support or sponsorship.  
Would I do it again? Maybe not next year, as organizing the last tour was a full time job for several months, even with the help of my in-house booking manager. The two day travel odyssey to get there is also a time/ cost consideration (I'm based in Spain). However, now that I have my tax file number, ABN, bank and phone info sorted, and have started to build a fan base and network of musicians, local promoters, publicists and venues, it will be a lot easier next time. Like anything, it's a question of how and where you want to invest your resources. If you can get past the overhead costs and technicalities, touring Australia is a harmonious joy ride from opening night to tour wrap finale.