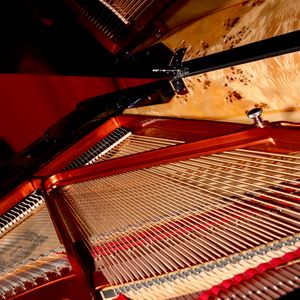 When I was starting out my music career, I wanted to accompany myself on the piano as I sang, and I wanted to do it well.  
My classical piano studies taught me a lot about technique and reading music, but in jazz and pop styles, you improvise over chord changes. That terrified me. How do you just… improvise? I didn't know how to make the transition.  
So I went to the best expert I could find: a well-known pianist living in Victoria, B.C. whose bio stated she'd studied with Duke Ellington, Leonard Bernstein and Oscar Peterson. Surely she could teach me, I thought. I saved up for months just to take one lesson with her, which cost me $150.00 at the time, over 20 years ago. I was determined, and got so excited when I finally had the chance to sit at the piano with her. I nervously waited for her to answer my question: 'how do I accompany myself? Where do I start?'  
She played and sang for me: beautiful versions of Body and Soul, This Can't Be Love.  
I waited eagerly, then asked again, 'so what should I work on? How do you voice those chords? What are those left hand patterns?'  
No response. She played another song, a bluesy version of Black Coffee. I asked again, 'how….?'  
She gazed at me for the longest time with her penetrating brown eyes before finally opening her mouth. She said, plainly and slowly: 'just play what you want to hear.'  
Just play what you want to hear. Just play what you want to hear??  
That was it. I left feeling stumped.  
It took me many years and several other teachers to develop the skills necessary to attempt to 'play what I want to hear,' but looking back, the advice was sound. I'd never really thought about making music from that deceptively simple point of view.  
Now when I sit at the piano, I ask myself, 'what do I want to hear?' I'm still working on it. 
Originally Published in Life As A Human, January 29, 2017