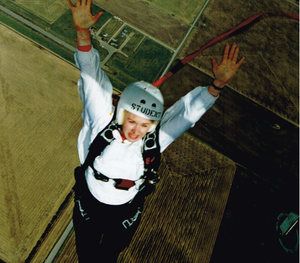 When I was a child I wanted to be an astronaut. Growing up in the log house my father built on Canada's West Coast, we didn't watch TV, nor were there any neighborhood kids to play with. But the undistracted night sky fascinated me when it filled up with stars and galaxies beyond, inspiring my dreams of a life of bold adventure.  
The music was always there.  
My grandfather taught me jazz standards on the ukelele and my dad played the drums. I went on to study classical piano, voice and theatre, and in Spain, the flamenco guitar. When I look back at my career so far, I smile at how music actually did become my rocket fuel for a great life of adventure.  
Some of the fun happens before music starts! A few of my favourite pre-show highlights:  
-Surging down a raging river in a handmade raft, being sucked into the current, then saved by a compassionate birch tree while it tore off my shorts and shoes. Realizing I'd have to return by foot, I rolled myself in mud to protect myself from the armies of mosquitoes, yelled 'ahhhh' to scare off the grizzly bears as I ran barefoot through the bush, and got back just in time to apply makeup to my wounds and make my entrance (starring in the musical comedy Beaver Creek Rendezvous in Canada's Yukon)  
-During a one night stopover in Singapore, I went to a concert of the Malaysian rock band The Lovehunters. After inviting me to sit in for a couple songs, they convinced me to cancel my flight and join the band. I was their guest vocalist for the next two months.  
-After a grueling 40 hour trip to the oil-rich country of Brunei in Southeast Asia, I found myself being rushed in a James Bond-style car chase through traffic, jungles and draw gates guarded by sworded Gurkhas, arriving to perform in a Sultan's palace of gold, for a Prince and his Harem. (Guest soloist for the Royal Palace of Brunei). 
  
-Jamming with Berber tribesman in the ancient Moroccan village of Tiznit. We wrote a song together using their 5 note scale; a perfect collaboration without a common gender, religion, culture or language.  
-Any number of 'juergas' or all-night flamenco parties I've attended while living in Spain. You'd better be ready to play or sing at the top of your lungs and drink wine till 5 am, when the music really starts to cook.  
-Jumping out of a plane into a 50 second free-fall from 12,000 feet in Beiseker, Alberta, believing that the parachute would bring me to a safe landing before showtime in Calgary (touring with the band Renaissance)  
-Swimming nude in the pristine South Pacific paradise of Bora Bora, not minding the sharks and stingrays, but concerned about the mounting storm that I'd have to paddle my kayak through in order to get back to the ship on time for the show (Paul Gauguin Cruise Ship)  
-Living in New York's Manhattan (2001) without getting mugged  
-Getting lost in the Malaysian jungle. I wandered too far from town and became the object of intense curiosity from the natives who'd never seen the likes of me before. I just smiled and laughed at myself to break the tension. Fortunately, they burst out into hysterical laughter with me, then invited me to drink a shot of fresh cobra blood.  
-Strolling through the slums of Colon, Panama having a great time joking around with the locals, until the police decided to politely escort me out of town.  
-Traveling through Canada in the dead of winter with my first band (Axess), with a massive PA and light show, and arriving at the 'Hot L' (oh yes, in my road fatigue I didn't realise the 'e' was burnt out from the neon Hotel sign). We then realized we were in an abandoned ghost town, and its only resident was the hotel owner. He had hired us to play just for him for the whole week.  
-Sitting peacefully by a lake of the Orinoco River in Venezuela, only to be greeted by the gradual rising appearance and subsequent jaws of a crocodile inches away from my face. I grabbed it by the jaws and (…okay, I'm kidding with that last bit)  
Sometimes I wonder how I've traveled the world on my own without incident. Perhaps it's a combination of insatiable curiosity, enthusiasm and a touch of naivety, or maybe it's just that I've always had to get back for showtime.